Finally an article in english for all the people that we met in our trip! There is a page too with all the explications of our spirit and trip!

We are doing a walk around Europe for one year.

We started the 21th September 2009 from the Mont Ventoux. There are many aims.
At first we want to walk, because it's the good scale to meet people. Same questions are asked: on foot!?!, for a year !?!, on your own!?!… it is also said that we are part of some obscure organization, a students group or that we are pilgrims! The later would be closest to our project, as the aim of a pilgrimage is a focus on one-self, an inner quest.
Our adventure is personal, we dreamt it, we imagined it, and we carried it through.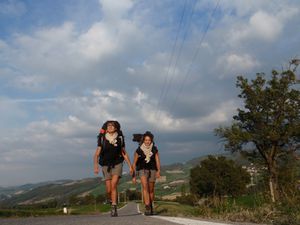 We are living with the Sun, we are laying down to sleep at sunset, waking up at dawn, following the natural rhythm of the seasons, feeling the cold on our legs, the rain dripping on our face and the sun making us frown. We are tying back with nature as we have not closed our eyes on this part of existence!
This society makes us sick because everything is going so fast, advertisements make us dream of terribly fake "idyllic" worlds!
We are pushed to believe in a natural and a supernatural, while advocating the Greek Hollos!
To tie back with these core values, we have chosen a close approach to the Wandervögel's . This is not a model for us but we acknowledge the similarities with the German youth movement against the bourgeois spirit circa 1914, it's a good way to embody our values!
The Wandervögel ethos is characterized by a "Völkisch spirit (complex notion meaning simultaneously" regionalist "," traditional "," popular "and" rural "), camaraderie, freedom and" revolt against the bourgeois spirit. " The young Germans back then also found a certain ecological conception of the world , the desire for a simple life, healthy and close to nature, rejecting the world of cities and their artificial values that alienate youth and have made men forget the essence of things and nature.

But we have also an cultural aim, we want to show how people in Europe are different and similar and we want to do that by the way of the legends, because legends are from ever the best way for the transmissiom of the mentality of a folk, the vision of the world.
Europe isn't for us just Bruxelles and euro, there is something else : commons traditions, common origin, common vision of the life but differents ways to live it.
So we'll write a book about this Europe through legends. And a other publication, about the sportive side of the adventure : a diary.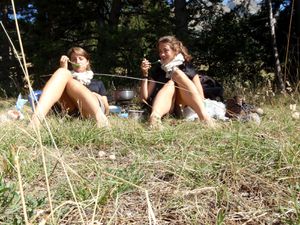 We walked through France (Gap, Briancon) Italy ( Turin, Bologne, Parme, Lucca, Sienne, Rome, Bari), Greece ( Patras, Olympie, Kalamata, Sparta, Nafplio, Korinthos, Athens)
We were in Thermopyles for the new years eve, symbolic place, where men fight for the defense of their folk, for their identity.
And now, Bulgaria, Romania, Hungaria, Slovakia, Austria, Czech, Germany, Denmark, Scotland, Ireland and France until our south! A total of 6000km by foot and 2000km by train (Bulgaria, Romania, Hungaria : for the security).

We never had problems, the only one is that people have forgotten their traditions and legends and it's difficult for us to recolt it!! We met a lot of people , we are recommanded by friends of friends, by this way, we are not like tourists but we discover the real life of these differents countries. Most of people are really nice and hosting.

Our parents always educated us to sport, adventure and open minded, that's why, they support us for this adventure, in the spirit, but we found all the money by ourself, they dont give us one cent!(we found subventions and particulary European Union, who help europeans young people "Youth in action") Of course they are parents so they are a little bit worried, but they trust us anf follow us on our web site!